Anklet Info:
The base length is 9 1/2" --other lengths may be requested.
Sterling silver findings, except the chain.
Sterling silver chain at additional costs.
USE THE ORDER FORM (found on the jewelry shipping/ordering info page) AND E-MAIL US.
If some of these buttons don't work... please let us know!! They're so stupid :/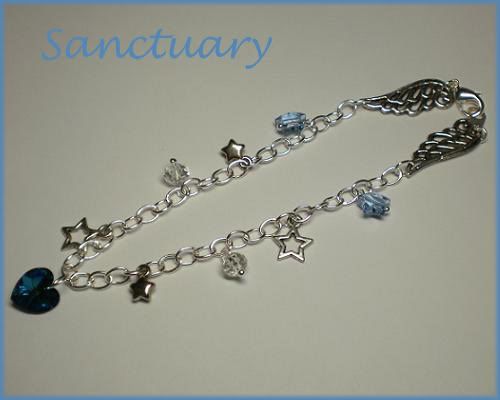 Fly to Me Version #2 AnkletAdditional Pictures
Angel wing charms, star charms, round crystal clear swarovski crystals & light sapphire swarovski stars, 10mm bermuda blue heart.
$9
Fly To Me Anklet
8mm light sapphire & crystal clear swarovski rondelles, 8mm light sapphire swarovski star, star & wing charms, with a 10mm swarovski crystal AB heart. $8.50