Sorry I've been lacking in the posts lately, been hanging out with the boyfriend a lot, got swamped with orders last week, blog & forum I go on, along with a test for Biology!
I finally put the cell phone charms page up!
Sorry, I'm not gonna make Paypal buttons for them so you would have to e-mail me if you're interested.
New Earrings: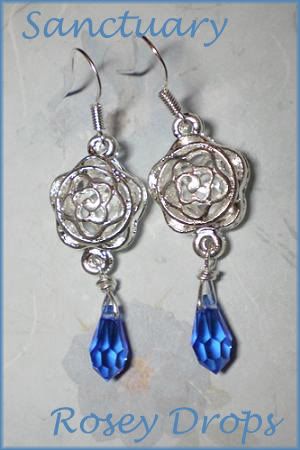 Rosey Drops Earrings
Sterling silver hooks & sterling silver wire wrapped 11mm swarovski sapphire teardrop. Rose links.
Recently, I got someone requesting one of my bracelets with a heart chain... (it just has a regular link chain). So those interested what it looks like with a heart chain...here it is :D I decided to make it into an actual piece to sell also~ Thanks
Donna!
Lover's Night Bracelet
Sterling silver heart link chain, 8mm swarovski crystal stars, 16mm swarovski crystal moon in crystal AB.
Earrings dedicated to
Edna
,
since she's been kind of down/busy lately =] a little pick me up!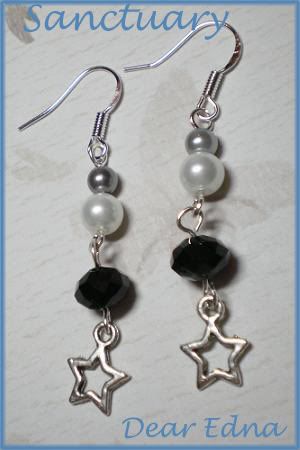 Soon...those of you who read my posts..will learn that I'm a huge movie freak...I have about 130 DVDS at the moment lol. not DOWNLOADS, but actual DVDs. I like to actually have the copy in my hand, rather than some burned, low quality thing.
I bought
Zombieland
! I love that movie.. so funny. My parents and I constantly have conversions about what we would do if there were a zombie take over hahaha.
Couple's Retreat
comes out this coming week, I'm excited! Another good movie :D
Sadly..this week I only went to the gym 5 times this week, Sunday~ Thursday. That's still good though. My legs are really tired so I decided not to go yesterday or today. Jordon and I did this thing, twice this week... 20minutes elliptical, 10 minutes sauna then again another 20 minutes elliptical, 10 minutes sauna. When we did it on Thursday, oh my gosh my legs were just like...dead lol. On Wednesday, I used the elliptical for ONE HOUR STRAIGHT LOL. I was studying :P
Pasta salad that I made :D I
love
making pasta salads.
Giada De Laurentiis
, from the
Food Network
is my favorite Chef on that channel. She makes tons of pasta salads too :P And she's hot! hahha. I have two of her books right now, but I really want her most recent one, really, bad.
Picture of me from Christmas!
I have chubby cheeks...haha.
Picture before I went to the gym! Lets see..in another month or so... if my cheeks aren't so chubby looking lol
Anybody watch
Vampire Diaries
? :o
I really liked this past Thursday's episodeeee. I yelled when they cut it off right when they kidnapped Elena!